Prenatal Services
December 15, 2021
2023-03-15 16:38
Prenatal Services
Don't know where to start when it comes to breastfeeding? We're here for you!
Preparing for breastfeeding before your baby arrives will help you achieve a more successful breastfeeding experience. Knowledge is power! We are here to empower, educate, and support you along your journey into parenthood. The best part? Our services are covered at 100% by most insurance. Learn more below.
Click Below To Learn More About Our Prenatal Services
Set yourself up for breastfeeding success! While not everyone will experience problems, mothers who prepare ahead tend to have smoother, easier breastfeeding journeys. Your prenatal consult is tailored to your specific needs and will include individualized breastfeeding education, a breast exam, demonstration of key techniques in the first few days, referrals to other health care providers who may need to be part of your breastfeeding team, how to establish your milk supply, common hospital procedures and experiences that lead to unplanned supplementation… and more!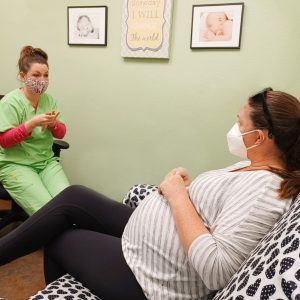 Taking steps to prepare yourself for the realities of breastfeeding can lead to a much smoother experience and empower you to navigate minor concerns before they become major issues. Additionally, going over your personal situation and medical history with a lactation consultant before your baby is born can help to identify potential risk factors for breastfeeding difficulties.
Having your prenatal consult early in your third trimester is the ideal time to set you up for breastfeeding success before your baby is born.
We are in-network with most major insurance companies. Our classes and consults are typically covered at 100%, meaning no out of pocket cost to you! If pre-verification of benefits or physician referral is required, we will obtain those for you. For more information on insurance, click here. 
1. Order Your Consultation Online. *Unsure if your insurance will cover your appointment? Input your insurance information HERE and we'll verify your benefits.*
2. A Member of Our Team Will Call You to Schedule Your Consult.
3. Meet with One of Our International Board Certified Lactation Consultants (IBCLCs) In-Person or via HIPAA Secure Video.
Preparation is key! Our classes are live-streamed, so you can learn from the comfort of your own home. Practice along with our IBCLC instructors and ask as many questions as you need. Best part? Most of our classes are fully covered by insurance! Looking for in-person prenatal classes in Cedar Park? Take a look at our classes through Cedar Park Regional Medical Center.
We recommend taking our prenatal classes sometime in your third trimester. This way, the education is still fresh in your mind after giving birth!
Taking a breastfeeding class prenatally will help prepare you to achieve a successful breastfeeding experience. Mothers should take this class early in their third trimester and partners are encouraged to attend. This class is about 2.5 – 3 hours in length. During the class, we will discuss:
Advantages of breastfeeding
Breast anatomy
Proper latching technique
How to position and hold your baby for a more comfortable breastfeeding experience
How to establish a good milk supply
How to know if your baby is getting enough to eat
How partners can participate in the breastfeeding experience
Breast pumps
Breastfeeding resources and support groups
How to address the challenges of breastfeeding
Our Newborn Care Class is taught by a Registered Nurse and teaches expectant parents who have little or no experience with babies about the basics of newborn care. This class is very interactive so be prepared to swaddle, burp, and diaper some baby dolls! Mothers should take this class early in their third trimester and partners are encouraged to attend. This class is about 2.5 – 3 hours in length. During the class, we will discuss:
Newborn appearance
Newborn behavior & reflexes
What to expect in the hospital
Newborn testing procedures
How to choose a Pediatrician
Newborn baby care such as swaddling, soothing, diapering, bathing and feeding.
Newborn safety including shaken baby syndrome, sudden infant death syndrome, car seat safety, and when to call the Pediatrician
*Please note this class is not covered by insurance*
To register for this class, please click here. 
Our Infant CPR (cardiopulmonary resuscitation) & Safety Class is taught by a Registered Nurse and teaches preventative and life-saving information to parents and caregivers of infants up to 1 year of age. In addition to learning lifesaving techniques, parents will receive recommendations on how to make their home and vehicle a safer place for their infant. Our Registered Nurse will demonstrate how to perform infant CPR using a mannequin and participants will be given an opportunity to practice infant CPR using a mannequin as well. This is a non-certification class. Mannequins and CPR supplies are provided. Anyone caring for young infants are encouraged to attend this important class. This class is about 2.5 – 3 hours in length. During the class, we will discuss:
Infant CPR
Infant Choking
Baby Proofing Your Home
Car Seat Safety