Home
April 10, 2020
2023-01-04 21:25
Home
Here for you before your baby arrives, and here for you after.
We are committed to providing the highest level of care for the families who place their trust in us. Breastfeeding can be a bumpy road, and we are here to help you find the path that works best in your life as you transition into your new role as a mother. Your lactation consultant will meet you where you are, discuss your personal goals, and provide compassionate, judgment-free support and direction to help you along your journey.
We have also worked hard to gain in-network status with most insurance companies, to remove the financial burden of getting the qualified help you need.
Our growing team of IBCLCs, most of whom are also registered nurses with backgrounds in women's health and neonatal care (NICU), have invaluable knowledge and experience in the field. We take a team-based, collaborative approach, allowing for every individual lactation consultant to benefit from the collective knowledge of the group. We discuss individual cases and scenarios, meet weekly for continuing education and to stay up-to-date on new or "hot" topics.
Read more about our IBCLCs on our Meet The Team page.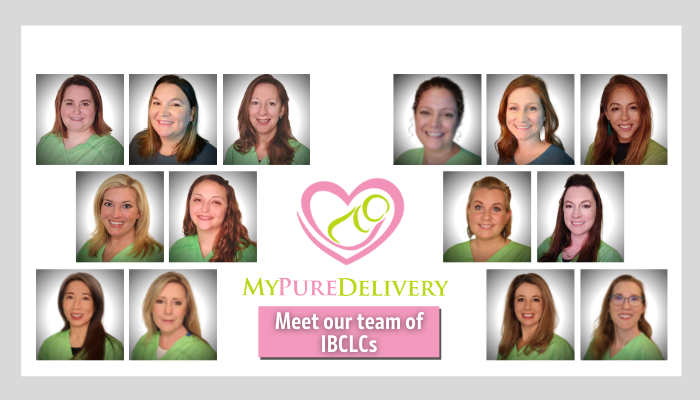 1. Order Your Consultation Online. *Unsure if your insurance will cover your appointment? Input your insurance information HERE and we'll verify your benefits.*
2. A Member of Our Team Will Call You to Schedule Your Consult.
3. Meet with One of Our International Board Certified Lactation Consultants (IBCLCs) In-Person or via HIPAA Secure Video.
At My Pure Delivery, the safety of our clients and staff are of utmost importance. We want to safeguard the families that we serve as well as our staff while continuing to provide the highest standard of care to assist families in receiving the help that they need.
Masks are required to be worn by all staff and clients upon entering our office. We request that you notify us ASAP if you or your partner are feeling unwell within 24 hours of your appointment. 
If your appointment needs to be cancelled or you have concerns regarding an in-person visit, we are offering telemedicine consults which can be billed to insurance (for insurance providers with whom we are in-network, as well as those for which we have received out-of-network exceptions). If we cannot obtain out-of-network exception, a superbill will be provided.
We currently have two clinics in the Austin and Plano areas. However, we offer Telehealth services Nationwide!
Breastfeeding can be challenging! A Lactation Consultant (IBCLC) can help you overcome these struggles, keep you and your baby healthy, and guide you on the road to reaching your breastfeeding goals. We like to say that breastfeeding is like learning a dance. You will fumble at first, step on each other's toes, feel like you will never get it right, and then- you find your groove. Your dance will look different from someone else's, but that's the beauty. Everyone implements the moves in their own way. We can help get you there.
We accept most major insurance. Click here to see if your services will be covered.
Watch the video to see what to expect in your initial postpartum consult with us. If you are seeing us prenatally, or for a special concern like adoption or a medical issue, your visit may look different.
We're happy to answer any questions you have! Just reach out at 512-765-9959.
See What Our Families Have To Say...