Terms and Conditions
April 27, 2022
2022-08-08 17:32
Terms and Conditions
Terms and Conditions
Disclaimer/Terms and Conditions Governing General Use of the My Pure Delivery Website
The following terms and conditions, in addition to those laid out in the Website Privacy Policy apply to the My Pure Delivery Website. 
Agreement.
MyPureDelivery.com ("the clinic Website", "this Web Site") is an Internet-based online information and communication service provided by My Pure Delivery ("the clinic", "we"). It is sometimes referred to in this Agreement as the Service. You agree to be bound by the terms and conditions of this Agreement, which includes the clinic's Website Privacy Policy. The clinic may modify this Agreement at any time. You agree to review this Agreement periodically to ensure that you are aware of any modifications. Your continued access or use of the Web site after the modifications have become effective shall be deemed as evidence of your acceptance of the modified Agreement.
License.
We hereby grant you the right to view and use this Web site subject to the terms and conditions of this Agreement. You may download and/or print a copy of information provided in this Web site for your personal use only. Permission to reprint or electronically reproduce any document or graphic in whole or in part for any other purpose is expressly prohibited, unless prior written consent is obtained from the respective copyright holder(s). Our designated contact for obtaining written consent is: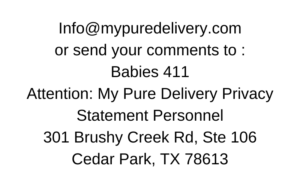 Privacy.
We take your personal privacy seriously. In addition to the publicly accessible pages on this Website, there are sections on the site where you can request more information or submit personal information to be considered for a specific employment opportunity with the clinic.
For Information about how we use and secure a registered user's information as well as your rights and responsibilities regarding the use of these features, please read our Website Privacy Policies, which is incorporated by reference into this Agreement. In addition to these policies, this site fully complies with the clinic's Notice of Privacy Practices as required by the Health Insurance Portability & Accountability Act of 1996 (HIPAA).
Links to Other Sites
While visiting this Website, you may leave the site and access certain third party Web sites. My Pure Delivery neither reviews nor controls the content and accuracy of these Websites, and therefore will not be responsible for their content and accuracy. Your access to third party Web sites is at your sole risk.
Warranty
In our content areas, information is provided for educational and entertainment purposes only and should not be interpreted as a recommendation for a specific treatment plan, product or course of action. The content areas should not be relied upon for specific medical advice for you. We assume no responsibility for how you use the information provided through this Service. You should always seek the advice of your physician or other qualified health provider prior to starting any new treatment or with any questions you may have regarding a medical condition.
Health Information
The health information on this Web site is provided by My Pure Delivery solely for informational purposes as a public service to enhance customer service for our customers and to promote consumer health. It does not constitute medical advice and is not intended to be a substitute for proper medical care provided by a qualified health care professional. The clinic assumes no responsibility for any circumstances arising out of the use, misuse, interpretation or application of any information supplied on this site. Always consult with your health care professional for appropriate examinations, treatment, testing, and care recommendations. Do not rely on information on this site as a tool for self-diagnosis. If you have a specific medical condition, please contact your healthcare provider. Use of this Website does not replace medical consultations with a qualified health or medical professional to meet the health and medical needs of you or a loved one. Please check with a physician or health professional if you suspect you are ill.
You exercise your own judgment when using or purchasing any product through any site or service linked to this Web site. In addition, while the clinic frequently updates its contents, medical information changes rapidly and therefore, some information may be out of date, and/or contain inaccuracies or typographical errors. 
Viruses, Worms, Use of Files
The clinic cannot and does not guarantee or warrant that files available for downloading from this site are free of viruses, worms, Trojan horses or other code that has contaminating or destructive properties. The clinic does not make any express or implied warranties, representations or endorsements whatsoever (including without limitation warranties of title, non-infringement or fitness for a particular purpose) with respect to the files available for downloading from this site. In no event will the clinic be liable to you or to anyone else for any decision made or action taken by you or anyone else in reliance on results obtained from use of files downloaded from this site. These files may be downloaded and/or reprinted for personal use only. Permission to reprint or electronically reproduce any document or graphic in whole or in part for any reason except for personal use is expressly prohibited, unless prior written consent is obtained from the appropriate My Pure Delivery copyright holder.
General Disclaimer.
All Material including any link to other sites and content found at linked sites is provided "as is" and without any express or implied warranties including warranties of merchantability or fitness for a particular purpose. Due to the nature of the Internet, we do not warrant that access to this Web site or any of its pages will be uninterrupted or error free. The clinic does not warrant or make any representations regarding the usefulness of or the expected results of the material contained on this Web site. Note that some jurisdictions may not allow the exclusion of implied warranties so some of the above exclusions may not apply to you. Please check your local laws for any such restrictions.
Limitation of Liability.
You agree by accessing this Web site that under no circumstances or any theories of liability under international or civil, common or statutory law including but not limited to strict liability, negligence or other tort theories or contract, patent or copyright laws, will the clinic be liable for damages of any kind occurring from the use of this Web site or any information, goods or services obtained on this Web site including direct, indirect, consequential, incidental, or punitive damages (even if the hospital has been advised of the possibility of such damages), to the fullest extent permitted by law. Some jurisdictions do not allow the exclusion or limitation of certain damages so some of these limitations may not apply to you.
Applicable Law and Jurisdiction for Disputes
These Terms of Use are governed by the laws of the State of Texas and the federal laws of the United States of America without respect to conflict of laws principles. You agree by accessing the Web site that under no circumstance or any theories of liability under international or civil, common or statutory law including but not limited to strict liability, negligence or other tort theories or contract, patent or copyright laws, will the clinic be liable for damages of any kind occurring from the use of this web site or any information, goods or services obtained on this web site including direct, indirect, incidental, consequential, or punitive damages, to the fullest extent of the law. In the event that our customer service team is unable to resolve your concern, by using this site you unconditionally agree that all claims relating to your access or use of our site, including all disputes arising out of, or in connection with, any services or products from My Pure Delivery, will be resolved entirely through binding individual arbitration, rather than court. All proceedings relating to or arising out of the subject matter hereof shall be maintained exclusively in the state courts situated in Texas or federal courts. You hereby consent to personal jurisdiction or venue therein. EXCEPT WHERE PROHIBITED BY LAW, YOU EXPRESSLY WAIVE TRIAL BY JURY IN ANY JUDICIAL PROCEEDING INVOLVING ANY DISPUTE, CONTROVERSY, OR CLAIM ARISING OUT OF OR RELATING TO THESE TERMS AND CONDITIONS OR THE SITE.
Minors and Child Online Privacy Protection Act
This Web site does not direct content to Minors and does not intend to collect personal information from Minors and therefore is not subject to the Child Online Privacy Protection Act.
If you allow your minor child, or a child for whom you are legal guardian (a "Minor"), to access and use this Web site, you agree that you will be solely responsible for: (i) the online conduct of such Minor; (ii) monitoring such Minor's access to and use of this Web site; and (iii) the consequences of any use.
If you choose to access this Web site from outside the United States you do so on your own initiative and are responsible for compliance with U.S. and local laws, if and to the extent that local laws are applicable. Software is subject to United States export controls. You represent and warrant that you are not located in, under the control of, or a national resident of any such country or on any such list. You agree to comply with U.S. export control laws and that you will not transfer any software or other content from this Web site to a foreign national or foreign country in violation of those laws.

Trademarks.
There are references throughout this Web site to various trademarks or service marks and these, whether registered or not, are the property of their respective owners.
Changes and Applicable Law.
We reserve the right to make changes to this Web site and our Legal Disclaimer/Conditions of Use. We encourage you to review the Web site and these terms periodically for any updates or changes. Your continued access or use of this Web site shall be deemed your acceptance of these Legal Disclaimers/Conditions of Use and any changes and the reasonableness of these standards for notice of changes. You agree that any legal action or proceeding between you and this Web site will be brought exclusively in a federal or state court of competent jurisdiction sitting in the State of Texas. If any provision of this agreement shall be unlawful, void, or for any reason unenforceable, then that provision shall be deemed severable from this agreement and shall not affect the validity and enforceability of any remaining provisions. 
Security.
We will only use the information you submit to provide you with the services you have requested and as otherwise described in this Website Privacy Policy.
We use secure technology
In addition to our Website Privacy Policy, we also take the technical side of security seriously. Any personally identifying information you submit is stored on a secure server in a way that maximizes security and confidentiality. 
Access to the information you submit
Information you submit is limited to those employees and staff who have a need to use the information in the following manner:
Direct response to your inquiry. If you send a non-urgent inquiry through the Contact Us section of this Web site, or submit a resume through Careers, information is limited to those individuals authorized to review, research and respond to your inquiry have access to that information.

Website Maintenance. Sometimes our technical staff may view data in the course of their work. They are governed by special rules to assure accesses are for legitimate reasons and we monitor the access to all Web technology.