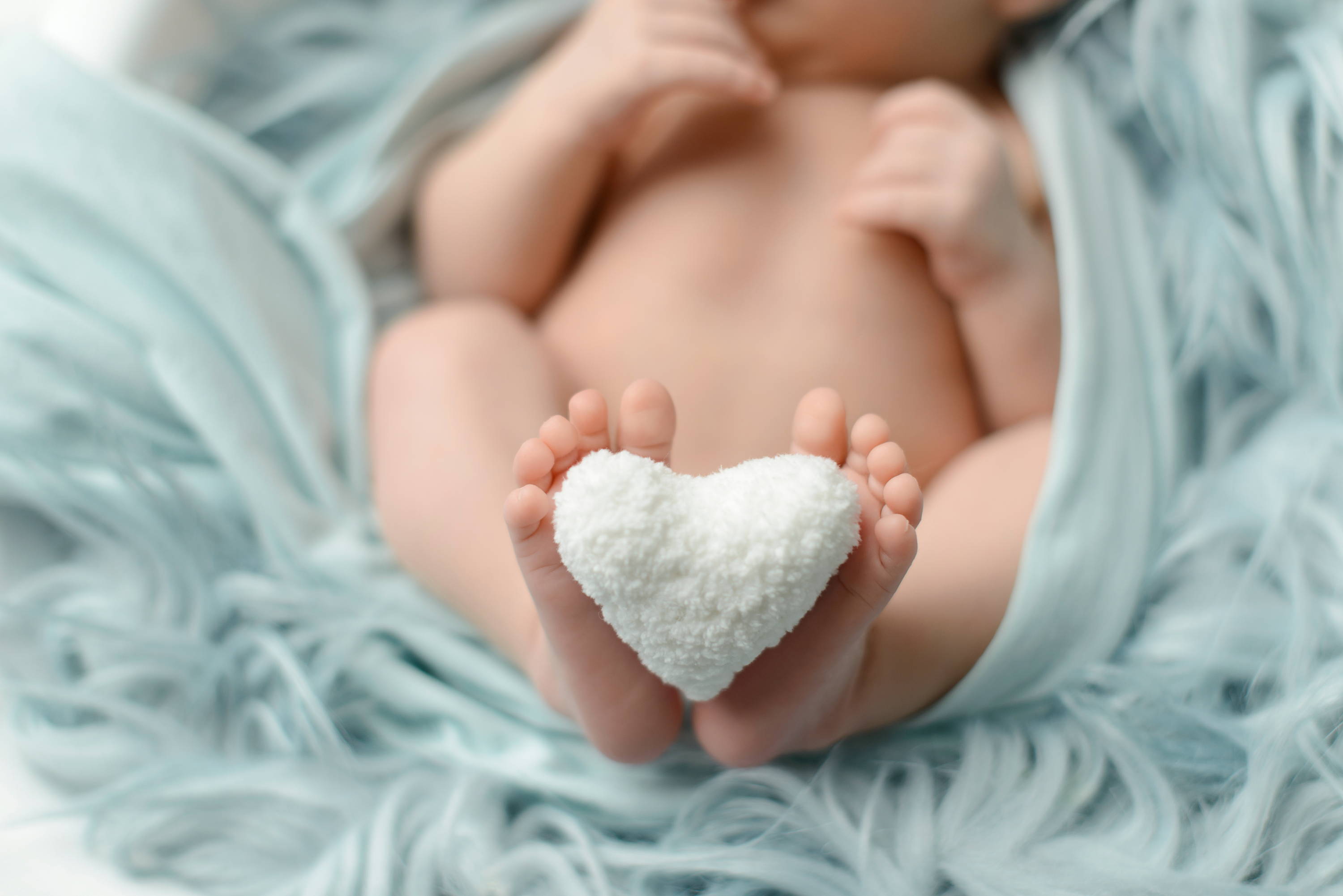 Congratulations on the upcoming arrival your new bundle of joy! There's so much to do before your little one arrives.
We have put together the top ten most important tasks to take care of before your baby arrives.
1. Take Childbirth and Parenting Classes: As first-time parents, you will find that babies do not come with a set of instructions and there is limited time to learn what you need to learn before you leave your birthing facility. You will also find that everyone will have an opinion on how to care for your baby. Taking prenatal and parenting classes will help you learn the basics of baby care, provide you with reliable resources to learn more, and will help empower you to make educated decisions when caring for your little one.
When should you start taking childbirth classes? Generally speaking, the start of your third trimester (around the 7th month of pregnancy) is a good time to begin classes. However, this timing can vary. If you are having multiples, have limited time to take classes, or are taking a class like hypnobirthing which takes 5 weeks to complete, you may need to begin classes earlier to ensure you are able to take all the classes that you desire.
What classes should you take? Here is a list of suggested classes: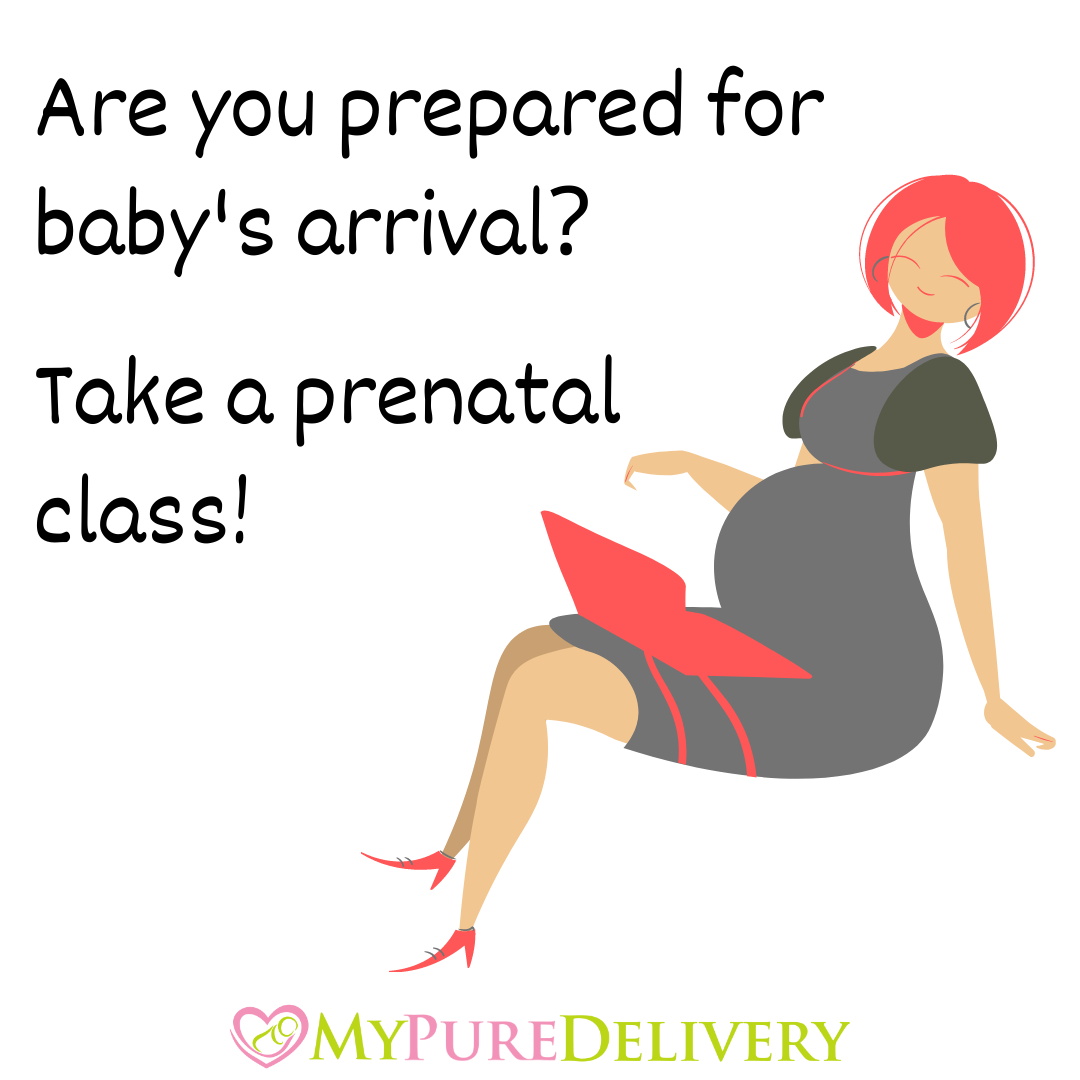 ---
✔ Prepared Childbirth Class
Getting prepared for your labor and delivery experience can help to reduce anxieties, help prepare you for the stages of labor, teach you effective breathing and relaxation techniques to use during your labor, teach you various labor positions to facilitate the birth, help you make informed decisions regarding your care, and assist you in communicating your birth choices with your practitioner(s). There are many types of prepared childbirth classes including the Lamaze Method, The Bradley Method, and HypnoBirthing. Choose from online classes, in-person group classes, or private classes.
✔ Breastfeeding
Breast milk is the most perfect food for infants and has many benefits for both mom and baby. Although breastfeeding is a natural process, it can be very challenging, especially in the early days. Taking a breastfeeding class will help you learn the basic principles of milk production, the many benefits of breastfeeding, teach you how to know if your baby is getting enough milk, provide you with tips to overcoming breastfeeding challenges, and inform you on pumping and returning to work. Support persons are encouraged to attend. The best part...most insurance providers cover taking a breastfeeding class!
We take insurance for this class so there is no out-of-pocket expense for you! Register here.
✔ Infant CPR
Learning the basics of infant CPR and choking are of utmost importance. Anyone taking care of your child should take this extremely important class. Take our Infant CPR & Safety class lead by one of our expert Registered Nurses. Register here.
✔ Newborn Care
This class will teach you the basics of caring for your new baby and is extremely helpful for parents who have never taken care of a baby before. Learn how to hold your baby, bathe your baby, swaddle, change diapers, dress, burp, take a temperature and use your bulb syringe. You will also learn how to calm a fussy baby, feeding techniques, and safety information.
We take insurance for this class so there is no out-of-pocket expense for you! Register here.
2. Purchase and Install a Car Seat: Before your baby will be able to go home with you from your birthing facility, you MUST have a car seat. Install your car seat before the big day and have it inspected by a Child Passenger Safety Technician (CPST). Unfortunately, many newborns leave the hospital in a car seat that has not been properly installed. It is estimated that 4 out of 5 car seats are not installed properly and 7 out of 10 children are not properly secured in their car seat. Car seat inspections are free and generally take 30 minutes to an hour. Find a technician in your area here.
3. Have Essential Baby Equipment Ready To Go: Be sure your bay's sleeping area is ready to go with clean linens. Wash baby clothes, burp cloths, washcloths, towels, hats and blankets. Stock diapers and wipes. If you will not be breastfeeding, purchase formula and sterilize baby bottles.
4. Discuss Important Decisions to be Made: Talk with your partner about important decisions that will need to be made in your baby's first few days of life.
👉 Hepatitis B Vaccine
Most hospitals will ask if you want your baby to receive his/her first vaccination. You have the option to opt out of this vaccine and receive it later in the pediatrician's office. Your baby's healthcare providers will give you a Vaccine Information Sheet to review. Review it here.
👉 Circumcision
If you're having a boy, your baby's healthcare providers will ask if you want your newborn to be circumcised. The risks will be explained to you. Read more about circumcision here.
5. Take a Tour of Your Birthing Facility and Ask Important Questions Regarding Their Rules and Regulations. Ask about:
✔ The facility's visitation policy.
✔ Infant security procedures in place.
✔ Amenities available such as a birth ball, squat bar, birthing tub, mirror, etc.
✔ Are obstetricians, anesthesiologists, and/or nurse midwives in-house 24/7 or on-call?
✔ What is the cesarean rate at the hospital? What is your physician's cesarean rate?
✔ If you have had a previous cesarean, ask if the facility allows VBACs (vaginal birth after delivery).
✔ How does the facility support breastfeeding?
✔ Can you bring your own products for yourself and your baby?
6. Review Your Insurance Plan: Familiarize yourself with your insurance policy and what your plan covers. Most insurance plans cover a free breast pump; however, each provider varies on how to obtain your pump and when you can receive your pump. Since it can take weeks to receive your pump, knowing your plans policy can help prevent delays when your pump is needed most. This is also a good time to review your benefits for breastfeeding support to see which International Board Certified Lactation Consultant (IBCLC) is in-network with your plan. Learn more about the Affordable Care Act and insurance coverage here.
7. Pack Your Hospital Bag: Pack your bag about four to six weeks before your due date (for multiples, you may want to pack your bag earlier, around 30-32 weeks gestation). Not sure what to pack? Download our checklist: Hospital Labor Bag Checklist
8. Thinking of Banking or Donating Your Baby's Cord Blood? Talk with your healthcare provider about your wishes to collect your baby's cord blood and discuss if he/she charges for this service. Obtain a collection kit from the facility you will be using to store the cord blood or the facility you will be donating to. Most cord blood facilities recommend signing up around your 32nd week of pregnancy.
Learn more about cord blood banking here.
9. Find a Pediatrician: Your baby's nurses will ask you for your pediatrician before your baby will be able to leave the hospital. Ask friends, family members and other local mothers for recommendations and be sure to check that the provider is in-network with your insurance provider. Many physicians have Meet & Greets where you can talk with the provider and ask the questions that are important to you and your partner. This is a great way to see if your personalities and philosophies mesh. Don't fret if you find out that down the road your pediatrician is not a great fit for you, you can always change providers.
10. Pre-Register with Your Birthing Facility: Pre-registering will help your admission go smoothly and will ensure you have all the necessary documents before the big day.
*Bonus* Will you Be Breastfeeding Your Baby? Visiting with a lactation consultant prenatally can not only help to answer any questions or concerns that you may have regarding breastfeeding but can also help to assess if there could be potential challenges that may need intervention. Since breastfeeding is a very intimate time, meeting with a lactation consultant prenatally can help you develop a rapport and help you feel more at ease.
Our Lactation Specialists are available to help answer all of your questions. Book an appointment today. We take most insurance so there is no out-of-pocket expense for you! Book Now
---
---
***The information provided on our website is intended solely for general educational and informational purposes only. It is neither intended nor implied to be a substitute for professional medical advice. Always seek the advice of your physician for any questions you may have regarding your or your child's medical condition. Never disregard professional medical advice or delay in seeking it because of something you have received in this information.***
---