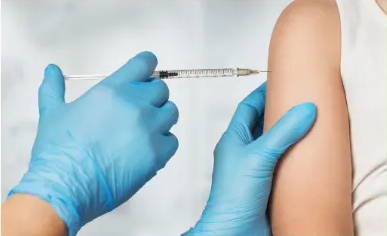 Wondering if it is safe to get the COVID-19 Vaccine while pregnant or breastfeeding? Wondering if it will help protect your baby? More and more women are opting in during these stages, but many are still apprehensive and unsure. As Lactation Consultants, it is our responsibility to educate and provide resources so you can make the best decision for you and your family in your individual situation.
Research in pregnant and breastfeeding mothers is being conducted. Based on preliminary results as well as what is known about how these vaccines are made, experts believe they are safe in pregnant and breastfeeding women. However, distribution of the Johnson & Johnson vaccine has recently been put on hold out of "an abundance of caution" based on a possible safety signal in women that requires investigation. (See the ACOG statement below.)
Since testing in this population is still in relatively early stages, and there has not been enough time to collect longitudinal follow-up data, researchers do not actually know for sure if there are any risks. With the limited data, and since individual responses vary with any vaccine, please talk with your healthcare provider to evaluate your personal risks vs. benefits.
Our friend and colleague Dr. John Thoppil, president of the Texas Association of Obstetricians and Gynecologists, has recommended some of his patients take the vaccine. "The good news is early anecdotes show safety. If you are high risk of exposure I would consider the vaccine."
"…We think the vaccine is safe," said Thoppil. "There's no mechanism that should affect the baby or anything across it. It is really just creating protein outside of the cell's nucleus so it doesn't change the DNA."
Due to the large number of questions we've been getting from moms about the safety and efficacy of the COVID-19 vaccine, we've compiled a synopsis of the statements from the credible organizations whose guidelines we follow in our practice. We will continue to stay abreast of any changes in recommendations and will update this page as new information becomes available.
---
The American College of Obstetricians and Gynecologists (ACOG)
Pregnancy:
Currently, ACOG recommends that COVID-19 vaccines not be withheld from pregnant individuals who meet criteria for vaccination. If you are pregnant and want to know more about the vaccines, talk with your OBGYN or other health care professional. You can discuss your risk of getting COVID-19 and your risk of severe illness if you get sick. A vaccine may protect you from severe illness, which could help both you and your fetus.
**On April 13, 2021 ACOG released a statement: "Because the CDC and the FDA have placed the Johnson & Johnson vaccine program on hold out of an abundance of caution, it is not currently available for anyone, including women of reproductive age. At this time, there is no clear phenotype of women who are more or less likely to experience this rare complication. However, until there is a better understanding of the frequency and impact of this finding, it will be important to encourage pregnant and postpartum women who wish to be vaccinated to receive the mRNA vaccines: Pfizer or Moderna."
Breastfeeding:
ACOG recommends that breastfeeding women get a COVID-19 vaccine. As per ACOG, "Theoretical concerns regarding the safety of vaccinating lactating individuals do not outweigh the potential benefits of receiving the vaccine." There is no need to stop breastfeeding if you want to get a vaccine.
View ACOG's full Practice Advisory HERE
---
The Centers for Disease Control and Prevention (CDC)
Pregnancy:
According to the CDC, it is recommended that people who are pregnant get vaccinated. Based on how these vaccines work in the body, experts believe they are unlikely to pose a specific risk for people who are pregnant. However, there are currently limited data on the safety of COVID-19 vaccines in pregnant people. If you have questions about getting vaccinated, a discussion with a healthcare provider might help you make an informed decision. Key considerations pregnant patients can discuss with their healthcare provider include:
The likelihood of exposure to SARS-CoV-2, the virus that causes COVID-19

Risks of COVID-19 to them and potential risks to their infants

What is known about the vaccine: how well it works to develop protection in the body, known side effects of the vaccine, and limited safety data during pregnancy
Pregnant women who decide to get vaccinated should continue to follow the current guidelines to prevent the spread of COVID-19 after they are vaccinated. That means:
Wearing a mask

Staying at least six feet away from others

Avoiding crowds

Washing hands with soap and water for 20 seconds or using hand sanitizer with at least 60% alcohol

Following quarantine guidance after exposure to COIV-19
Breastfeeding:
For breastfeeding women, the CDC states:
Clinical trials for the COVID-19 vaccines currently authorized for use under an Emergency Use Authorization in the United States did not include people who are breastfeeding. Because the vaccines have not been studied on lactating people, there are no data available on:
The safety of COVID-19 vaccines in lactating people

The effects of vaccination on the breastfed infant

The effects on milk production or excretion
The COVID-19 vaccines authorized now are non-replicating vaccines, meaning they are able to create an immune response but do not reproduce inside host cells. Because non-replicating vaccines pose no risk for lactating people or their infants, COVID-19 vaccines are also thought to not be a risk to the breastfeeding infant. Therefore, lactating people may choose to be vaccinated.
View CDC's Vaccination Considerations for People Who Are Pregnant or Breastfeeding HERE
---
Academy of Breastfeeding Medicine (ABM)
Many lactating individuals fall into categories prioritized for vaccination, such as front-line health care workers. The ABM does not recommend stopping breastfeeding for individuals who are vaccinated against COVID-19.
Breastfeeding:
Women who are breastfeeding should discuss the risks and benefits of vaccination with their health care provider, within the context of their risk of contracting COVID-19 and of developing severe disease. These conversations are challenging, because the Pfizer/BioNtech vaccine trial did not include breastfeeding or pregnant mothers. However, according to the ABM, there is little biological plausibility that the vaccine will cause any harm and antibodies to SARS-CoV-2 found in mother's milk may protect the breastfeeding child.
"During lactation, it is unlikely that the vaccine lipid would enter the blood stream and reach breast tissue. If it does, it is even less likely that either the intact nanoparticle or mRNA transfer into milk. In the unlikely event that mRNA is present in milk, it would be expected to be digested by the child and would be unlikely to have any biological effects.
While there is little plausible risk for the child, there is a biologically plausible benefit. Antibodies and T-cells stimulated by the vaccine may passively transfer into milk. Following vaccination against other viruses, IgA antibodies are detectable in milk within 5 to 7 days. Antibodies transferred into milk may therefore protect the infant from infection with SARS-CoV-2.
Although the biology is reassuring, for definitive information, we will have to wait for data on outcomes once the vaccine is used in lactating individuals and their children."
View ABM's Vaccination Considerations for People Who Are Breastfeeding HERE
---
World Health Organization (WHO)
Pregnancy:
Based on what we know about these vaccines, we don't have any specific reason to believe there will be risks that would outweigh the benefits of vaccination for pregnant women. While pregnancy puts women at higher risk of severe COVID-19, very little data are available to assess vaccine safety in pregnancy.
For this reason, those pregnant women at high risk of exposure to SARS-CoV-2 (e.g., health workers) or who have comorbidities which add to their risk of severe disease may be vaccinated in consultation with their health care provider.
Breastfeeding:
It is not yet clear whether COVID-19 vaccines can be excreted through breastfeeding. To determine the best course of action, the developmental and health benefits of breastfeeding should be considered along with the mother's clinical need for immunization against COVID-19. WHO does not recommend discontinuing breastfeeding after vaccination.
View WHO's Vaccination Considerations HERE
---
Infant Risk Center
Breastfeeding
The use of new vaccines in breastfeeding women has not been widely studied in clinical trials, but the main understanding is growing from secondary research. The Infant Risk Center believes that the current COVID-19 vaccinations to be safe for lactating women and their breastfeeding babies. Of course as always, talk to your provider and weigh the relative risks and benefits of receiving the vaccine.
What is known:
No vaccine mRNA has been found in breastmilk after the vaccine

Study of 7 individuals who received Moderna

Neutralizing antibodies were found in milk as soon as 7 days after vaccination

A study of 31 lactating women who received primarily either Moderna or Pfizer

The vaccine is not known to impact milk supply

In a survey of 4,455 vaccinated mothers who received primarily Moderna or Pfizer

Breastfed babies of mothers who received the vaccine exhibit minimal to no symptoms

In a survey of 4,455 vaccinated mothers who received primarily Moderna or Pfizer
*It is important to note the very small sample sizes of the various trials and surveys*
Pregnancy
Consensus is growing among prominent bodies that pregnant people are at higher risk of severe illness with COVID-19 and therefore vaccinating may be of additional benefits. At this point, since many of the new vaccines do not contain live viruses and are not infectious, the Infant Risk Center supports the opinion from the SMFM, ACOG, CDC, and WHO that current Covid-19 vaccines are safe for pregnant women. Ultimately, the risk of infection in that patient must be weighed against the minimal risk of the vaccine.
View Infant Risk Center's COVID-19 Vaccine in Pregnancy and Breastfeeding HERE
---
---
---
***The information provided on our website is intended solely for general educational and informational purposes only. It is neither intended nor implied to be a substitute for professional medical advice. Always seek the advice of your physician for any questions you may have regarding your or your child's medical condition. Never disregard professional medical advice or delay in seeking it because of something you have received in this information.***